Seasick: The Hidden Ecological Crisis of the Global Ocean
Posted January 20, 2012 5:48 pm by Lauren Brownlie | Permalink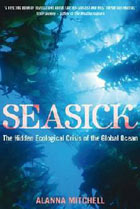 (Photo credit: One World Publications)
We know more about the surface of the moon than we do about the depths of the seas and yet 70% of our planet's surface is water. The global oceans are vital for all life, providing most of our oxygen and regulating the climate, and they are undergoing far reaching changes as a result of the actions of mankind. Join journalist Alanna Mitchell as she travels the world examining this effect and explains why it should matter to us.
Mitchell journeys from Plymouth to Panama, visiting the planet's ocean hot spots. She enjoys the wonder of witnessing coral spawning, and examines the ominous, oxygen free 'dead zones' of our seas. She looks at how overfishing has made it mark and how the impact of this will be felt most keenly by those living in the coastal areas of the poorest countries. She translates the science of ocean acidification and coral bleaching, and meets the experts who are attempting to understand and manage the crisis facing our seas. 
This is a fascinating and important book that highlights how we are now standing at a junction where we can either chose to carry on regardless and leave the oceans, and ourselves, to their fate, or we can chose to change.
You can find further details of Seasick in our catalogue.